Works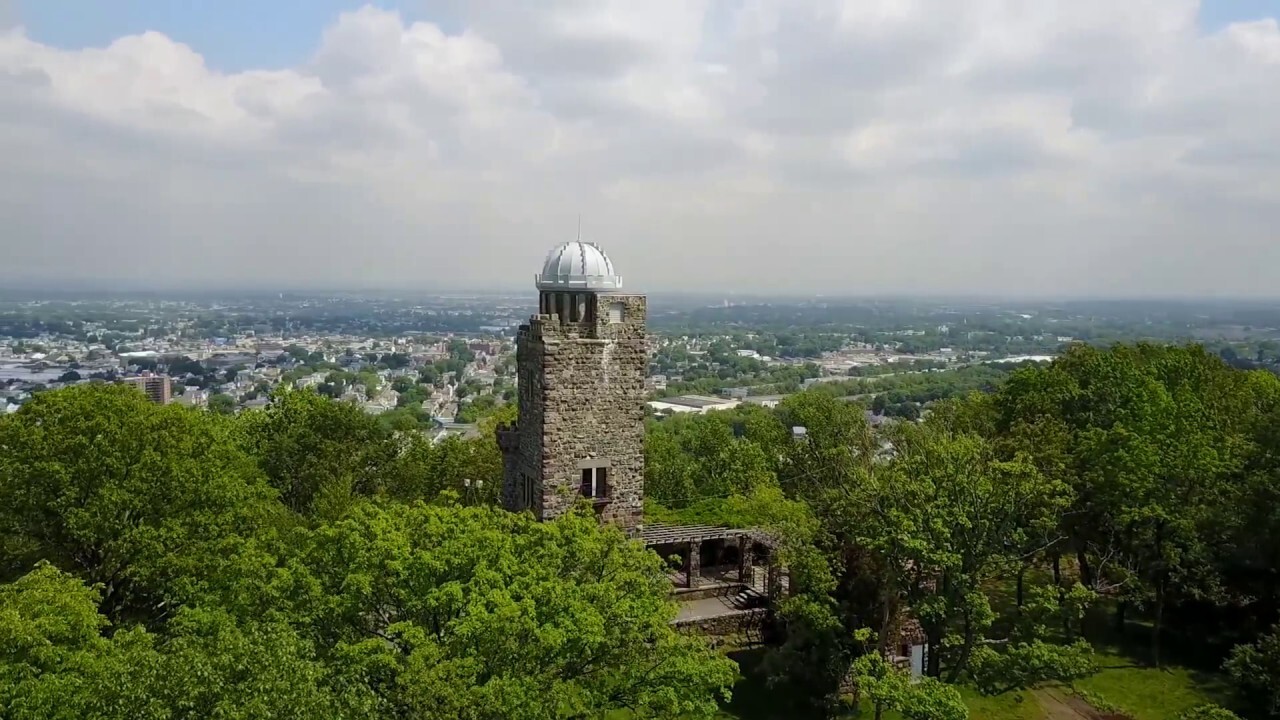 I'm a native of Paterson, New Jersey, and though I moved away from the city long ago, I continue to visit whenever I can. In the intervening years I've also had several opportunities to do fieldwork in Paterson, in connection with various projects, for various clilents. And so in the mid-1990s, I was part of a team assembled by the American Folklife Center at the Library of Congress, to explore and document work traditions among various occupational groups, and in various neighborhoods, of the city. Several years later, I was invited to contribute to a small book about Paterson, and I provided the following, based on an experience I had while working there, not far from the Garrett Mountain site depicted in the photograph.
For those who may be interested, materials from the Working in Paterson project have been digitized and placed online, and can be accessed at https://www.loc.gov/collections/working-in-paterson/.
Fast Forward
The sky was open and bright, and the city lay quietly nearby, beneath the lookout point above Marshall Street. I, too, sat quietly, a feeling of deep harmony overtaking me, but soon there was a distraction in the trees to my left as three young people, Peruvians – two older, one very small – emerged. A soccer ball was clamped under an arm, but then the ball rolled out onto the grass and the boys arrayed into position for an ad hoc game. They played, feinting and kicking, age differences dissolving into the common movement, sky and field merging to encompass it all – their voices, their busy legs, the sound of the ball brushing through the grass, the birdsong drifting from nearby trees, the sun an almost audible presence in the heightened air. In the sheer openness of that moment, the cosmic whole was suddenly, playfully revealed.
Gradually, others entered the scene from that same patch of woods, carrying bags and a blanket. There were women and men, an infant, a few young girls, and they spread themselves and their things into the grassy space just above the game. The game billowing through the developing scene, the soccer boys playing hard, laughing and murmuring among themselves, the women reaching into their bags, passing food around – tamales, corn on the cob, meat on the bone. They ate, boys breaking from the game one by one, obtaining bits of food, then playing, chewing, legs marking the action, their laughter, their voices spiraling amidst the orchestrated, almost mindful movements of the living ball, a fresh plenitude filling the air, bursting with optimism and the teeming possibilities of life and hope. And all the while the city, my city and theirs, lay just beyond and below the scene, a bundle of temporalities tied with a taja.
Later, memory supplied a reference: the opening scenes of an Antonioni movie. Because in the blazing sunlight the event had appeared so cinematic, so dreamlike, such an outsized reality. In fact, a conjunction had occurred and with it the realization that the lives of those Peruvians -- migrants in the 1990s – were akin to my own life in the 1950s -- grandson of Italian immigrants. Both sets of lives, commingling now, were discovering forms of freedom while coping with daunting and difficult conditions. Knowing this, what else can free people do but act against prejudice, against nostalgia, against any would-be monoculture. Or freely make provision for tolerance, for hope, and for the full and ongoing range of human and earthly possibility, in the city and elsewhere, then and now, speaking with our many-colored tongues.
An earlier version of this essay appeared in Italian American Writers on New Jersey, edited by Jennifer Gillan, Maria Mazziotti Gillan, and Edvige Giunta, Rutgers University Press 2003; the essay was first pubished, in slightly different form, in Downtown Paterson, edited by June Avignone, Arcadia Publishing 1999, under the title "At the Movies".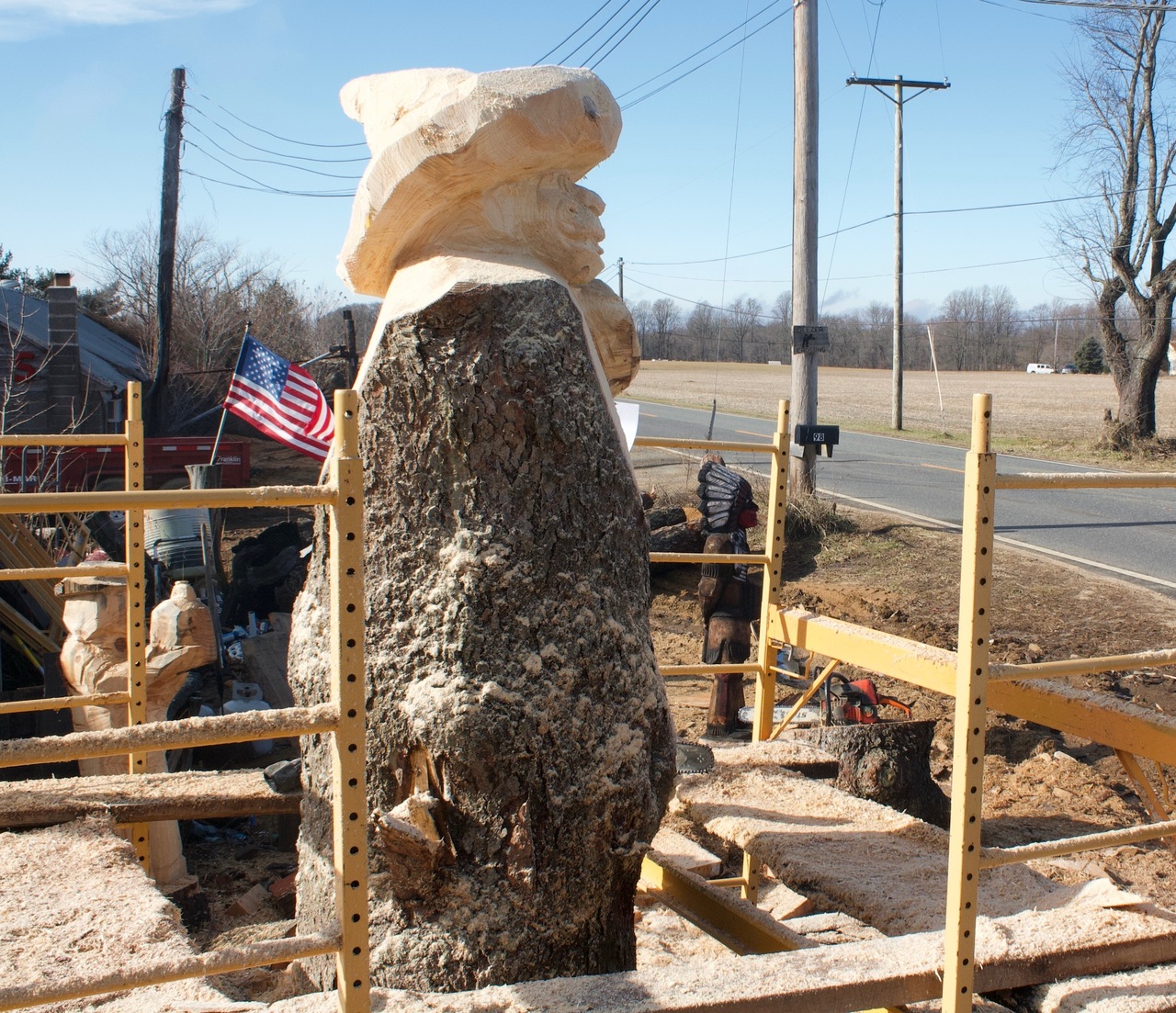 Brian Ackley
Brian Ackley is the fifth generation to grow up on the family farm in Deerfield Township, though he hardly ever milked a cow. Tapping an entrepreneurial spirit not uncommon among farmers, Brian's grandfather had gotten hold of a small portable sawmill in 1947 and began sawing timber, which gradually morphed into the commercial operation that prospers yet today.
Brian grew up working in the mill, chainsaw in hand, shearing bark from logs and cutting them down to size for milling. Handling wood on a daily basis, he became the wood's familiar, noting and internalizing the many subtle variations of grade and grain. So when his wife came home one day with a chainsaw carving of a bear, roughed out by a local carver, he was ready to claim, "Hell, I could do that!" He carved one bear, then another, his skill developing well beyond that early framework.
Today, Brian carves simple or elaborate figures to order, ranging from Celtic Knots to tortilla factory avatars to whimsies sprung from his own head, such as an imaginative rendering of "Henry the Fifth Having Tea". When not on the road demonstrating at festivals and fairs, he makes forays onto local properties to transform standing stumps into his own blazing brand of figurative art. Standing barefoot amidst the dust and danger of the spewing saw, he acquires a rough patina of chippings, embodying his own process; working with a nearby Native American tribe, he's earned the wry honorific, "Walks with Ticks".
I developed this exhibit panel text for "Found Artists of Southern New Jersey", Perkins Center for the Arts, Moorestown, New Jersey, 2014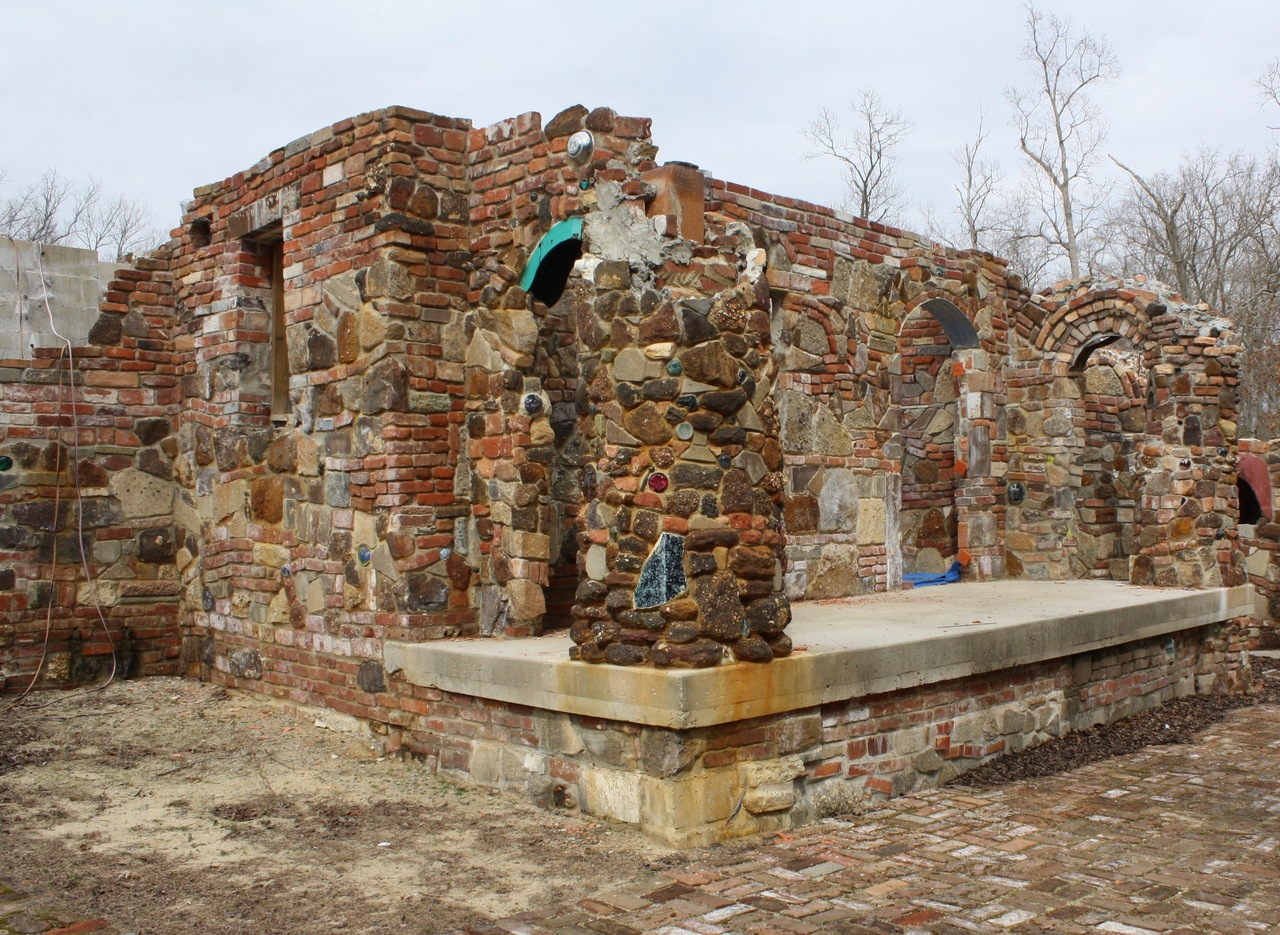 Palace of Depression
George Draynor was a drifter who lost three fortunes in disasters and downturns, before winding up in Vineland. He purchased seven acres of land there, sight unseen, which turned out to be a junkyard situated on a swamp. Undaunted -- and encouraged by visiting angels – the eccentric Draynor began his notorious building project, which collapsed into ruin after his death. Reputed to be an epicenter of healing for Native Americans, and later adapted by Europeans to their own health-restoring practices, the site has been reclaimed by two local men, Kevin Kirchner, former building inspector for the city of Vineland, and Jeffrey Tirante, Vineland native and practicing artist.
Kirchner and Tirante, with volunteer labor and donated funding, are rebuilding the Palace and developing the site into a city park. Fascinated by the odd uniqueness of the original, they're working from that model towards a new version that will be up to code and handicap accessible. Meanwhile, they're carefully reproducing Draynor's sinuous walls, divagating ramps, minarets and spires, and swinging turtle-shell entrance door. And they're embedding found objects – bottles, glass, bricks, pottery, car parts, found-objects in general – into the fabric of the building, just as Draynor had done. Thanks to the myriad of materials used, the walls glisten in the sun and shimmer appealingly after a rain, a goad to the imagination and tribute to the persistence of two generations of inspired builders.
I developed this exhibit panel text for "Found Artists of Southern New Jersey", Perkins Center for the Arts, Moorestown, New Jersey, 2014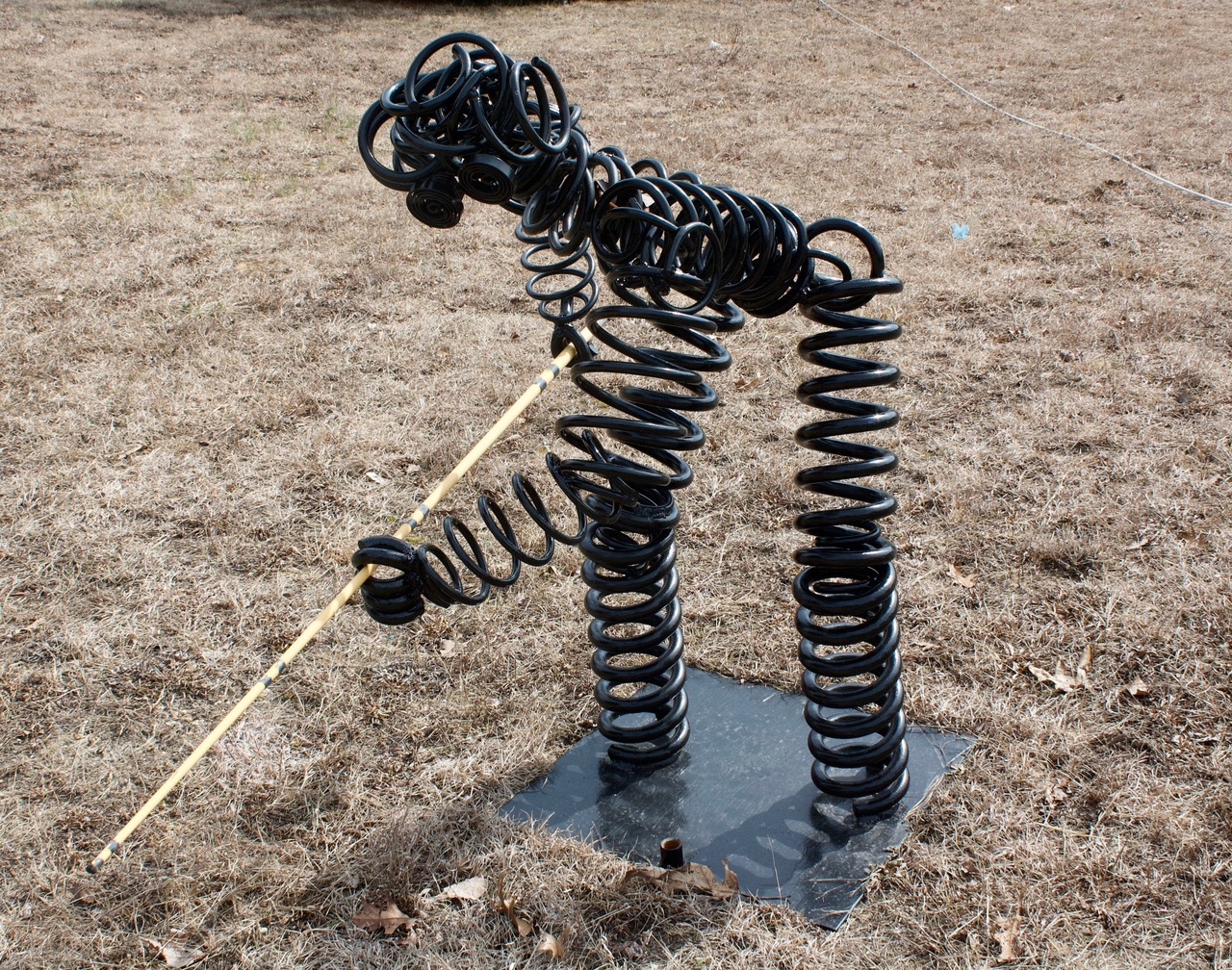 William Clark
William Clark grew up in rural Newtonville, New Jersey, outside Hammonton, on a sprawling property littered with the cars that formed his father's junkyard, a rusting jewel set amidst acres of fields. From an early age, William launched excursions into those fields, riding cars when he could, working in the basement as neophyte welder when rain or darkness fell, later displaying his handiwork on the Atlantic City boardwalk in order to ask the one big question all artists must ask: "What do you think of my work?"
For William, cars were vehicles towards a personal vision, and he cannibalized them to achieve ever more elaborate sculptural forms. Driven by an unceasing need to do art, he transformed disparate arrays of junk into novel assemblages, producing a series of welded metal figures, all the while chasing that grand but elusive goal of all junk sculptors: movement. Delving into a deeper past, William excavated brass and steel parts from old typewriters and cash registers, their subtle sheens supplying subdued but suggestive color to a growing flock of fantastical metallic birds, whose joints and junctures were formed from the simple tension of superimposed angles. His garden now a favorite laboratory for his art, William grows flowers from seed, scrutinizes their foliated shapes, marvels at the jazzy colors, and muses on ways to propel his art forward.
I developed this exhibit panel text for "Found Artists of Southern New Jersey", Perkins Center for the Arts, Moorestown, New Jersey, 2014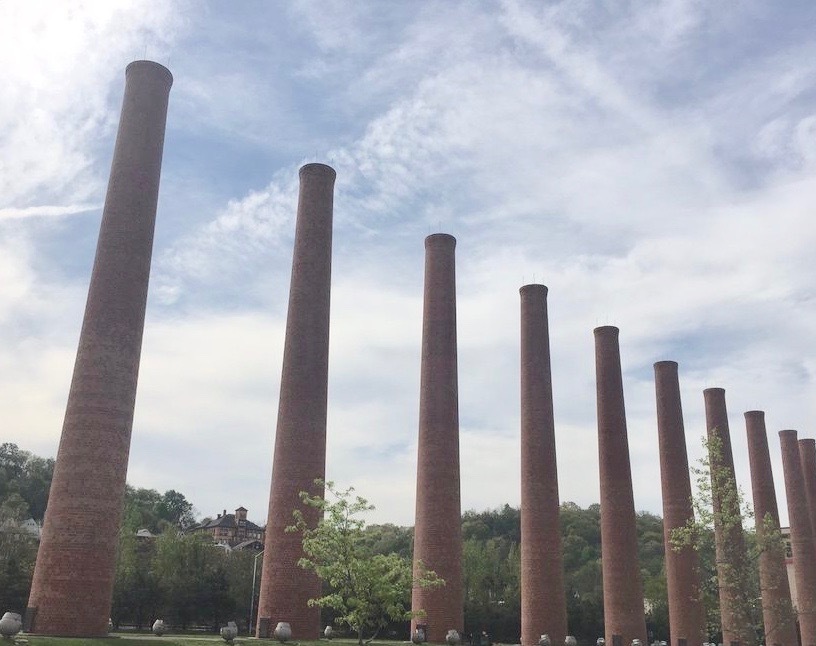 Pittsburgh Reflections

I lived in Pittsburgh through the 1990s, and while visiting family there several years ago walked over the High Level bridge to the Waterfront Mall at Homestead (Homestead is one of a number of mill towns clustered around that city). The town is notable for a steelworkers strike that erupted there in 1892, capping years of simmering tensions between mill workers and mill owners. During that time, too, the Pittsburgh Survey was conducted, which produced a number of significant works, including Homestead: The Households of a Mill Town, by Margaret F. Byington, a landmark study of social conditions in a working class, immigrant community. Below are brief reflections on Waterfront Mall, as well as a local bar located nearby called Chiodo's Tavern (now closed and replaced by a Walgreen's). I've also included a third piece, a brief article I wrote about another destination bar in a different part of the city – Tessaro's -- located in the Bloomfield neighborhood.

The Waterfront Mall

I'd known that the Homestead Works had been scheduled for demolition, and wanted to see how the transformation had been wrought. I was very much struck by the change, and a little remorseful that the steel mill had been entirely effaced from the site, utterly supplanted by the mall. I may have been goaded into that feeling by the giant smokestacks left standing on the site. The following piece is impressionistic; it's not reportage.

Make your way across the High Level Bridge and turn down the ramp toward the Waterfront Mall. There, within living memory, an outsized steel plant stretched along the Monongahela River, throwing fire and smoke against the Pittsburgh night. That's all gone now. I vaguely remember a painting on display somewhere – a pilot in a B-25 bomber, face framed against the windscreen, his plane hastening down toward the coursing river, the High Level Bridge visible in the background. Did we collectively dream that he and his crew flew over the mill, and pitched down beneath the Mon? It did happen. Most of the crew survived and were rescued, but the plane itself was never found; they call it the "Ghost Bomber of the Monongahela".
It felt a little strange navigating around the mall – especially since I'd visited that site and other sites in the region while the original mill structures were relatively intact. Now, there's the oversized Loew's maxiplex theater, the chain Asian restaurant, the chain bakeshop. No street signs down there; find your own way around the sprawling spaces. Look toward the southeast and focus your vision on the near distance, where run-down worker housing and industrial buildings loom into view, cropping up like shimmering ghosts, like water riffling through the gutters. The neighborhood populated by flotsam now, family after family siphoned off, sinking beneath the pervious surfaces of time, houses and shops exfoliating in slow motion. Except of course that the bobos have been moving in, and are busily sprucing up the place. But that's another story.

Popping down the rabbit hole into the mall, it feels like Alice, but it's a souped-up version of Alice, driving her cool hybrid vehicle down the long access ramp, down from the Homestead Grays bridge -- renamed as a nod to the storied Negro League baseball team of that place -- gesturing to tourists now, and to shoppers. Get down there and wander around, help yourself to the new reality. The giant smokestacks still standing, quietly occupying the set-aside spaces. Gazing, or just languishing in their shadows, you may even experience the one- hand-clapping. Red bricks repointed and scrubbed clean. The fairy towers now a beckoning host of smokeless incarnations. Didn't Ahab ride the white whale to his watery grave beckoning just so? But sit back. Relax. Enjoy the show. We're well past the age of the factories now, aren't we?

The new mall has mostly the same footprint as the former mill, which was hulking and huge. Dead center, on a small island formed by a looping road, they've raised a Starbucks. You circle around that in your car, and it feels like riding a carousel. And the road thrumming beneath your tires is made of brick. Brick? Yellow brick? Could be! We're off to see the wizard. But don't forget Alice. The big box stores, planted along the river, rise up like gift boxes set down for giants. We little people don't open them; we're absorbed by them. Inside, we buy our coffee spoons for measuring, along with the ten thousand other things. Way down here along the river we're store-bought and smoke-free.

Inside the chain bakery: the sweetened pastries, the sweetened savories, the sweetened breads. Smokestacks looming like giant candy sticks, fairy towers beckoning through late afternoon mist rising off the river. There's a feeling of magic in the air.
Chiodo's Tavern
Chiodo's was a legendary tavern, operating in its original location adjacent to the Homestead Works for 58 years.
I mention Chiodo's Tavern as something of a footnote to my piece on the Waterfront Mall, though it was a legendary spot in its own right, located in Homestead just across the High Level Bridge from Pittsburgh, right on the edge of the giant Homestead Works. The bar had a loyal following among all sorts of people, ranging from steel workers and football players (members of the Steelers were known to visit there), to computer scientists from nearby universities. Chiodo's was a destination bar, partly due to the widespread reputation and fame of its owner, Joe Chiodo, and partly because of one of Joe's culinary creations, "The Mystery Sandwich". Joe Chiodo retired and closed the bar in 2005; a Walgreen's now stands where Joe's tavern once stood.
Here's the "recipe" for the famous sandwich, as printed in Pittsburgh City Paper several years ago:
Chiodo's Mystery Sandwich
Cook hamburger patty. Top with thin slices of kolbassi and sauerkraut (see below). Heat through. Top with "mystery cheese" (a slice of provolone and a slice of American, with three pepperoni slices between) and "mystery sauce" (see below). Heat until melted.
Sauerkraut: Drain and rinse kraut. Add red and green pepper, garlic, sugar, oregano, red-pepper seeds and tomato sauce. Bake at 350 degrees for 1-1.5 hours, "depending on your crunch factor." Add seasonal vegetables to taste.
Mystery sauce: Mix tomato sauce or puree with tomato juice to make a "not-too-thick/not-too-thin" sauce. Add red-pepper seeds, sugar, oregano, garlic, pepper and "whatever floats your boat."
Tessaro's

I interviewed Kelly Harrington, the owner of Tessaro's, in 2008. Kelly passed away the following year, in May 2009, but members of Kelly's family, and many longtime employees continue to operate the business. This article first appeared in an online publication, the American Public House Review, which reports on local taverns and bars throughout the country. The site can be accessed at www.americanpublichousereview.com.

Tessaro's Bloomfield neighborhood is an old Italian stronghold, but like other neighborhoods in Pittsburgh, this one is changing as new people settle in and new businesses emerge from the mix. Tessaro's owner Kelly Harrington welcomes the prospect of newcomers, but his landmark bar has been doing fine as is since he became owner in 1984. The bar is surely a fixture of the neighborhood, and its original founder, Richard Tessaro, was a local guy, but only a small percentage of the business is local. In fact, Tessaro's has become a destination bar for out-of-towners, and for people from other neighborhoods of the city too. This says a lot in this city of rivers where people on the other side of a given stream are considered strangers, where marriages across river boundaries are discouraged, and where social networks are thick, and hardly porous.

I visited Tessaro's when I first landed in Pittsburgh, to do a consulting gig. As soon as I walked in I knew it was a special place, but that feeling is hard to convey, and harder to describe. The impression was so powerful, and spoke so favorably of Pittsburgh, that I thought, 'I could live here.' I did wind up living in Pittsburgh for a while, and spending a fair amount of time at Tessaro's during those years – but that's another story.

Kelly recalls that he "always wanted to be in the bar business. When I was growing up, instead of playing store, I played bar. 'What ya have?'" he'd say as a kid. After he bought the bar, he says, "I got out front, I got behind that hardwood, I was in the kitchen. And it turns out to be a family business. My dad stops in on Monday – you've seen him." "Yes", I say, "I have." Kelly says that his mom is the host. "She's the buffer, the steadying influence. She's good with the employees. Mom does all the scheduling, all the hiring and firing. And my sister is here too. She's here 18 years. So there's a sense of certainty."

The broad mahogany bar is set perpendicular to the entrance and extends nearly to the rear of the barroom. The dark wood bar and painted tin ceiling are paired with dark wood tables and wood paneling all around. Delicate white strings of light climb the walls and inch along the ceiling, and these define the contours of the space and offset the darker tones of the wood. But the wood hues really establish the mood of the place, which is warm and intimate. When they expanded some years ago – Kelly says they badly needed room to spread out – his mother painted brightly colored murals on the walls of the new dining spaces, depicting the bar, Kelly's family (mom and dad and eight siblings), and the employees, many of whom still work there. His mother always paints herself into the murals, Kelly says, but never reveals herself. Instead, she appears in silhouette, or with hands raised in front of her face. "It's kind of Hitchcockian," Kelly says, but the murals capture the charm of the place and underscore the warm mysteries of the bar.
Tessaro's is all about personal attention, specially prepared foods, and drinks made from scratch from established recipes. The famed wood grille, visible behind a glass partition in the rear corner of the barroom, is a hallmark feature of the place. Specials are posted on a blackboard in front, which consist mainly of fish entrees, salads, and sandwiches. "The blackboard…people like it." Kelly says. "My sister works the fish angle to the max. But 75% of the food we sell are hamburgers." He continues, "We used to buy our meat across the street at House of Meats. We didn't know what to do when they went out of business. A customer, a fireman, offered to cut meat for us at his house, but I said, 'How about if I create a space for you here?' So I built a place in the basement, a walk-in. He cuts and grinds chuck, adds some filet, some trimmings. A guy came in, ordered a 24oz steak, he went downstairs and cut it. Now where else can you get that? And the meat is fresh every day."

Kelly has always taken a low key approach to PR, but even so, "The place caught on, won awards for best hamburger," he says. "We were mentioned in Pittsburgh Magazine, and also in the L.A. Times, the New York Times. Travelers loved it, they talked and wrote about it…Out-of-towners come in, say they read about it on the Internet, on CitySearch. We were listed in one publication as having one of the best four hamburgers in the country. The Food Channel did a show on us…We've never done any advertising. Business has been good, though. It's been a steady climb."

Mixed drinks are prepared from scratch by bartenders who've been around a while, who know the customers, and know the score. The people who come to work at Tessaro's are inclined to stay. "I'm strong on the idea that all the employees make the business," Kelly says. And he backs that up by paying well. "It shows them that not all the money is for me." But employees have to earn their place in the business. "It takes a while to catch on, you can't get away with loafing here," Kelly says. All wear the trademark Tessaro's uniform: white shirt and black pants, black apron with the Tessaro's logo in front (a stylized hamburger), accented by a red bowtie.

When I go there I always look along the bar for the familiar faces, and then let my gaze wander to the back corner of the room to locate the figure of the principal cook, a steady presence in the tiny, busy space surrounding the hardwood grille. Whenever I walk into Tessaro's, usually on a Friday night these days, the place is crowded. Some people wait outside on the sidewalk, some cluster just inside the door waiting for tables, while others spread out along the bar to fill all the available space. The bar stools are full, with people standing two or three deep behind them. Either Kelly himself, or Tee his mom, or Ena his sister are there to greet and accommodate, to put you down for a table or help you navigate the bar. Tessaro's is a place where friends and strangers mix it up and talk. It's a shared experience, and generous enough to brew a powerful social mix. Standing at the bar one night, passing comments along and absorbing the chat that was filtering by, I suddenly thought that if a heat sensing satellite were to pass overhead just then, the place would trigger the sensors and raise a glow on some far, faraway screen.

Taverns can form the stuff of life and legend, and the good ones nourish and replenish us (with assistance from the array of feisty yeasts, of course!). And this has been so from the earliest recorded human history. After all, the action in Beowulf originates in the mead hall, which Grendel visits to wreak his special brand of havoc and set the epic tale turning. Gilgamesh, wandering grief stricken following the death of Enkidu, arrives at world's end on the shores of a great ocean, only to encounter – what? – a tavern! -- whose keeper (a goddess) provides clues to the water passage Gilgamesh must make. And need I mention Chaucer? -- whose narrator at the outset explains, "Bifil that in that seson on a day/In Southwerk at the Tabard as I lay/Redy to wenden on my pilgrymage." The Tabard was, of course, a local inn.

There's always much more to any really good bar than the accumulation of surface details, which are recognizable and routine across many venues. That said, Tessaro's unites very high standards of food, ale, and mixology with deeper currents of personal and social life, which is to say that Tessaro's has always struck me as the perfect bar.




South Seventh Street*
Jews settled along 7th Street in the early 20th century, and the community grew. The kosher butchers, the restaurants offering home-style Jewish cooking, the tailor shops, nut and seed shops, clothing and fabric stores. And a synagogue on practically every corner. These were row house shuls, the larger ones making use of two houses in the row, breaking through the adjoining wall to accommodate the burgeoning minyon. At social events, the men gathered downstairs, the women upstairs. Young boys took Hebrew lessons, leading to the Bar Mitzvah ceremony for the boys. The Bat Mitzvah for girls was not widely practiced then. You could hear Yiddish on the streets and in the shops, read the Hebrew letters on shop signs and synagogue walls.
The neighborhood is very different now. Old timers remember that they saw the change coming. Someone working away for a few years in the early 1970s returns to the neighborhood to find businesses closed, friends drifting away. Then the inevitable happens. The neighborhood Jews age, retire from their jobs to live on fixed incomes, and cease patronizing the Jewish businesses, as their parents and grandparents had done. Without that income the shops shut down, one by one, and for the Jews at least, the flourishing neighborhood begins to go dark. I ask one man to tell me a story about those days. He says no. "No stories. Not the same. Can't bring back what happened."
Paying jobs, and money, were scarce, and everyone had to pitch in. But it was a tight community. Girls stayed at home to help with cooking and cleaning, washing and ironing. Boys went to the park to sell polly seeds and pumpkin seeds to the older people who gathered there to play cards. Boys and girls left school early to go to work.
With as many as eight or ten people per family, and only two or three bedrooms per home, kids doubled or tripled up, slept on the bathroom floor or on table recruited for the purpose. Some parents worked at home in the evening, trying to establish a moonlight trade, such as tailoring, after working all day in the garment factory. And Mom kept busy cooking, or boiling clothes in large pots set on the coal stove, whitening them with giovella water purchased from a peddler who came around on a horse drawn wagon.
The streets were wide open in those days, because nobody owned cars. Fathers rode to work on trolleys, lugging tools and equipment aboard for the ride. The boys played half-ball and shot marbles, the girls played potsy (hopscotch) and jumped Double-Dutch. People sat outside to escape the heat, never worrying about street violence, though some kids joined gangs and fought slingshot wars with other gangs. The occasional card game could erupt into more serious violence, but that was rare. A momentary rage at losing, or at suspected cheating.
There were pool halls all around the neighborhood, pool being an important part of the local culture. Some older men recall going to nearby halls to watch a brother or friend play. Some of the boys were expert enough to play for money; they weren't hustlers though they themselves might be cheated out of winnings sometimes. People remember the legendary pool players -- Willie Mosconi and Minnesota Fats -- visiting the neighborhood pool halls, eying the local talent and challenging them to play. "What handicap will you give me?" one of the guys asked Fats after receiving an invitation. "None? Then no game." Instead, they played penny-ante games among themselves. And the men shot craps on the street for money, until the cops came along and broke it up.
Neighborhood Italians set up a bocce court in Mifflin Square, and some of the Jewish kids played bocce right along with them, respecting their elders no matter where in the world those elders might be from. Then as now, Mifflin Square is a meeting place of cultures. Jews and Italians and Irish then, Asians, blacks, and Latinos today, along with recently-arrived Bhutanese and Burmese refugees. People still fill the square on warm weather days -- strolling, visiting, sharing food, conversing, or just sitting – but now soccer rather than bocce is the game of choice. All along South 7th Street, the little shops sell kefir lime plants rather than polly seeds. And on the streets, Buddhist monks in saffron robes walk where black-suited Orthodox Jews once walked.
The Steiffel Center was an important neighborhood institution, functioning as a Settlement House would, providing essential services to immigrants. There was a basketball court downstairs, and classrooms for Hebrew lessons upstairs. Today, along with returning Jews, Southeast Asians visit the thriving Center - Vietnamese rather than Cambodians or Lao, probably because the Cambodian temple is nearby, at 6th and Ritner, with a Lao temple at 20th and Washington. Both provide services to community members.
The Cambodian temple was established in an abandoned synagogue on Ritner Street, just above 6th, though the main temple has since relocated kitty-corner. Local Jews remember belonging to that synagogue. Contemplating the shared spaces of what had once been Adath Shalom Synagogue and is now Preah Buddha Rangsey Temple, thinking about the transformation of Mifflin Square itself, is a good way to get a grip on the changes and continuities happening along South 7th Street -- life then, life now.
*An earlier version of this essay was published in Journeys South, Evolving Immigrant Histories of South Philadelphia, City of Philadelphia Mural Arts Program and Mural Arts Advocates, 2011, pp. 120-21.